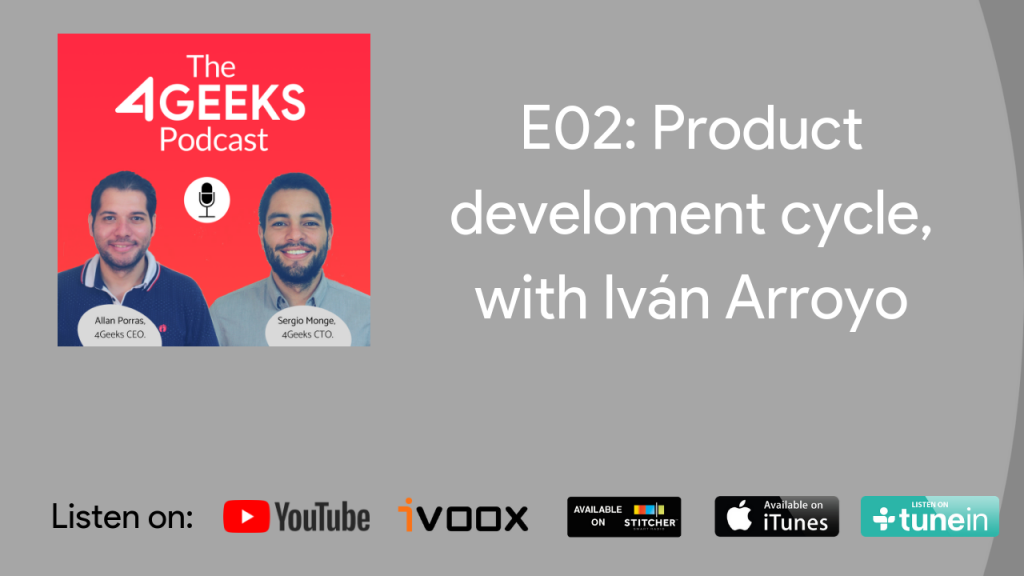 E02: Product Development Cycle, with Ivan Arroyo
Subscribe: Apple Podcasts | Android | Google Podcasts | Stitcher | TuneIn | RSS | Via Email
Welcome back to The 4Geeks Podcast! In this new episode Ivan Arroyo, a software engineer here at 4Geeks, joined us for discuss about the 4Geeks Product Development Cycle.
This cycle includes Brainstorming, UX, MVP, UI, Coding, Testing and Product Release, and Ivan, Sergio and Allan discussed deeply about it on this episode. Hope you can enjoy!
Remember subscribe on your favorite platform, rate us and share with your team. If you have any suggestion to keep in mind, please write us. You can always send us your questions by voice 🙂
We also published a version to YouTube, check it out.
Hosts: Allan Porras and Sergio Monge.
—
4Geeks is a global product design, development & market company, and all-in-between, focused on triple ROI for startups, small & medium businesses. Need help to grow your business? Request a 15 min free consultation, discover an out-of-the-box solution or simply subscribe to keep in touch.