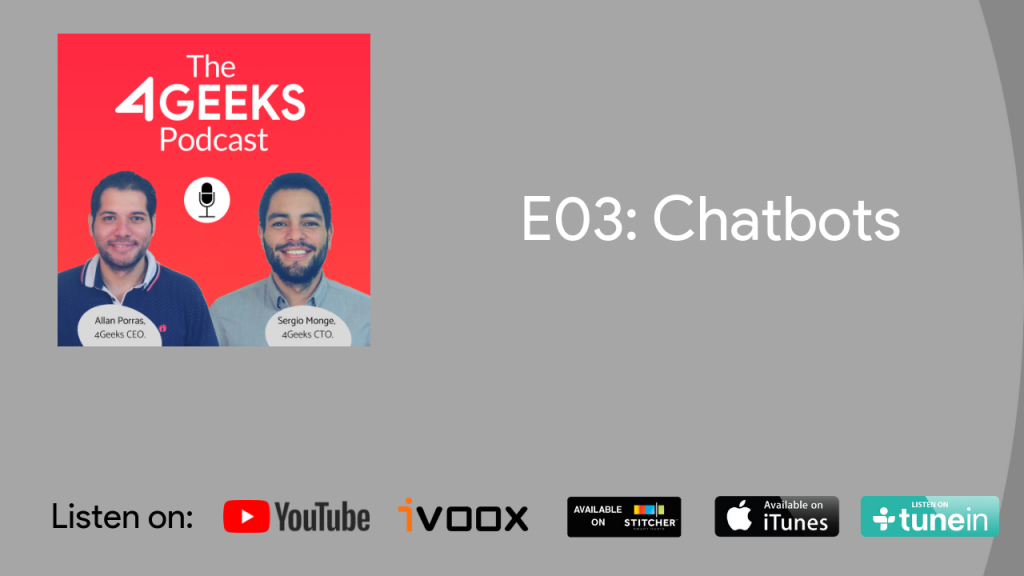 E03: Chatbots
Subscribe: Apple Podcasts | Android | Google Podcasts | Stitcher | TuneIn | RSS | Via Email
Hi there! Today we are going to talk about chatbots, and how it can help you to engage customers and do better business.  A chatbot basically is a program with capability to understand natural language (English, Spanish…) and trigger orders.
Some of the most popular companies providing chatbots platform are Google (DialogFlow), Facebook (Wit.ai), Amazon (Amazon Lex) and IBM (IBM Watson).
You can subscribe to this podcast on your favorite platform; iTunes, TuneIn, iVoox and YouTube included. Rate us and share with your community. You can always send us your questions by voice 🙂
Hosts: Allan Porras and Sergio Monge.
About 4Geeks:
4Geeks is a global product development and growth marketing company, and all-in-between, focused on 10X ROI for startups, small and mid-size companies around the world. 4Geeks serves industries like E-Commerce & Retail, Startups, HealthTech, Marketing, Banking & FinTech and Real Estate. Headquartered in United States, and nearshore development centers in Mexico and Costa Rica. Pura Vida!