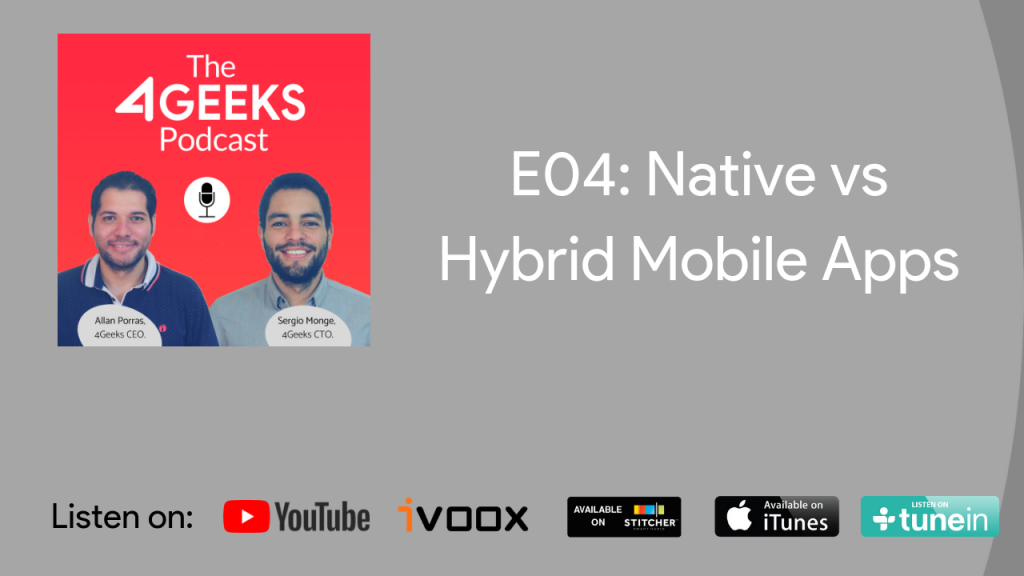 E04: Native vs Hybrid Mobile Apps
Subscribe: Apple Podcasts | Android | Google Podcasts | Stitcher | TuneIn | RSS | Via Email
Do you prefer to develop a native mobile app or a hybrid mobile app? Maybe this comparison can be useful if we talk more about the context… the pros and cons.
In this episode, Sergio Monge and Allan Porras talked about some important factors to consider if you plan to choose one "format".
For example, one of the most important things on native mobile apps is the performance, security and the capability to access device so easily. The thing is you need to establish separated development teams for each platform (Android or iOS). It can increase the budget.
If you want to know the completed pros and cons, just listen this episode 🙂
Well, enjoy the conversation and remember to subscribe to this podcast on iTunes, iVoox, TuneIn, and rate us to help us reach more people. You can always send us your questions by voice 🙂
Hosts: Allan Porras and Sergio Monge.
About 4Geeks:
4Geeks is a global product development and growth marketing company, and all-in-between, focused on 10X ROI for startups, small and mid-size companies around the world. 4Geeks serves industries like E-Commerce & Retail, Startups, HealthTech, Marketing, Banking & FinTech and Real Estate. Headquartered in United States, and nearshore development centers in Mexico and Costa Rica. Pura Vida!