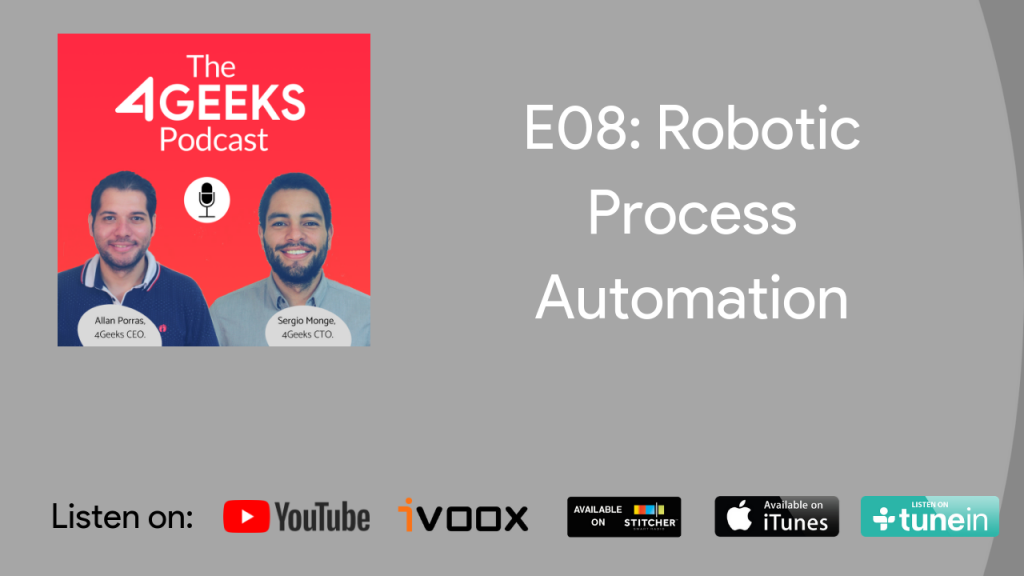 E08: Robotic Process Automation
Subscribe: Apple Podcasts | Android | Google Podcasts | Stitcher | TuneIn | RSS | Via Email
Robotic Process Automation (RPA) is how business are getting a lot of customers, automatically. 24/7.
You can subscribe to this podcast on your favorite platform; iTunes, TuneIn, iVoox and YouTube included. Rate us and share with your community. You can always send us your questions by voice 🙂
Wait the next episode on next week.
If you plan to invest in RPA, or if you need help (or simply you need a friend), you already knows what to do.
Hosts: Allan Porras and Sergio Monge.
—
4Geeks is a global product design, development & market company, and all-in-between, focused on triple ROI for startups, small & medium businesses. Need help to grow your business? Request a 15 min free consultation, discover an out-of-the-box solution or simply subscribe to keep in touch.