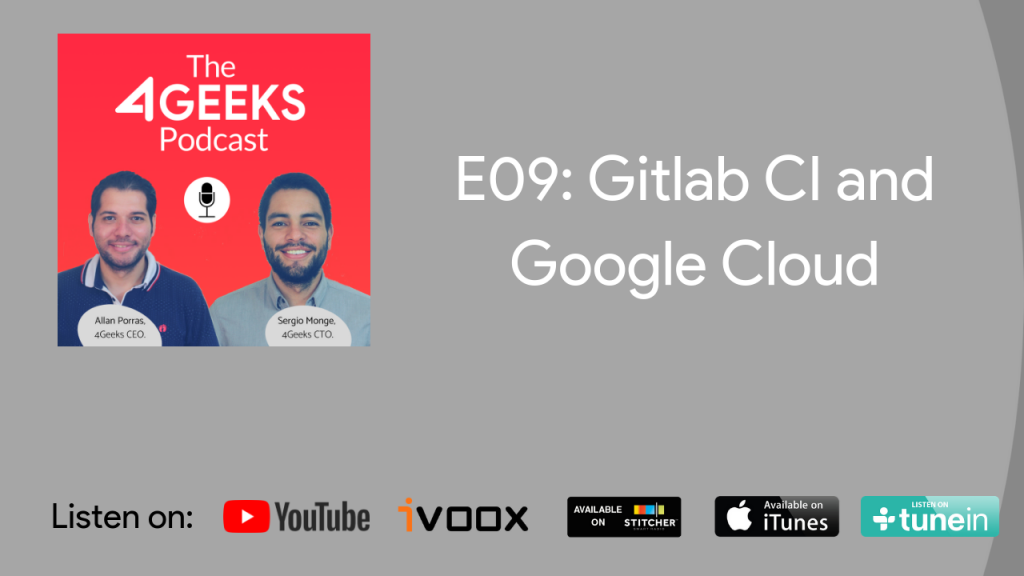 E09: Gitlab CI and Google Cloud
Subscribe: Apple Podcasts | Android | Google Podcasts | Stitcher | TuneIn | RSS | Via Email
Gitlab is doing a tremendous job on their side by simplify complex process, not just storing code. On this episode Sergio and Allan talk about Gitlab CI and the perfect integration with Google Cloud Platform.
Some Auto DevOps features we mentioned:
Auto Build: Dockerfile

Auto Test

Auto Code Quality: Rubocop

Auto SAST (Static Application Security Testing):

Auto Dependency Scanning: Docker

Auto License Management: Docker

Auto Container Scanning: Docker

Auto Deploy: GKE

Auto Monitoring: Prometheus
You can subscribe to this podcast on your favorite platform; iTunes, TuneIn, iVoox and YouTube included. Rate us and share with your community. You can always send us your questions by voice 🙂
Happy listening!
Hosts: Allan Porras and Sergio Monge.
—
4Geeks is a global product design, development & market company, and all-in-between, focused on triple ROI for startups, small & medium businesses. Need help to grow your business? Request a 15 min free consultation, discover an out-of-the-box solution or simply subscribe to keep in touch.