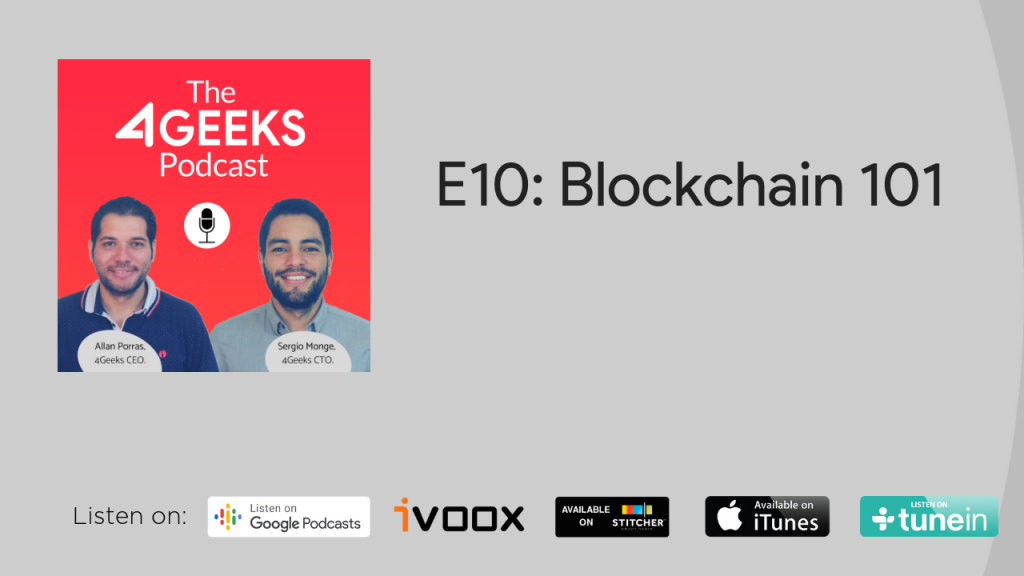 E10: Blockchain 101
Subscribe: Apple Podcasts | Android | Google Podcasts | Stitcher | TuneIn | RSS | Via Email
Hi 4Geeks Nation! This podcast episode was a private webinar we presented to our community some months ago.
Everybody out there is talking about Blockchain. Tons of new products are based in Blockchain, and millions in venture capital is addressed to new Blockchain projects or companies.
In this episode Sergio Monge explains exactly you need to know to understand this "new era", benefits, etc.
Hope you can enjoy, learn and share out this episode with your contacts.
About 4Geeks:
4Geeks is a global product design, development & market company, and all-in-between, focused on triple ROI for startups, small & medium businesses. Headquartered in United States, with development offices in Mexico and Costa Rica. Need help to grow your business? Request a 15 min free consultation, discover an out-of-the-box solution or simply subscribe to keep in touch.
Looking for software engineers for your team? Hire top in-house software developers in Latin America, on-demand, and start scaling your product development now.