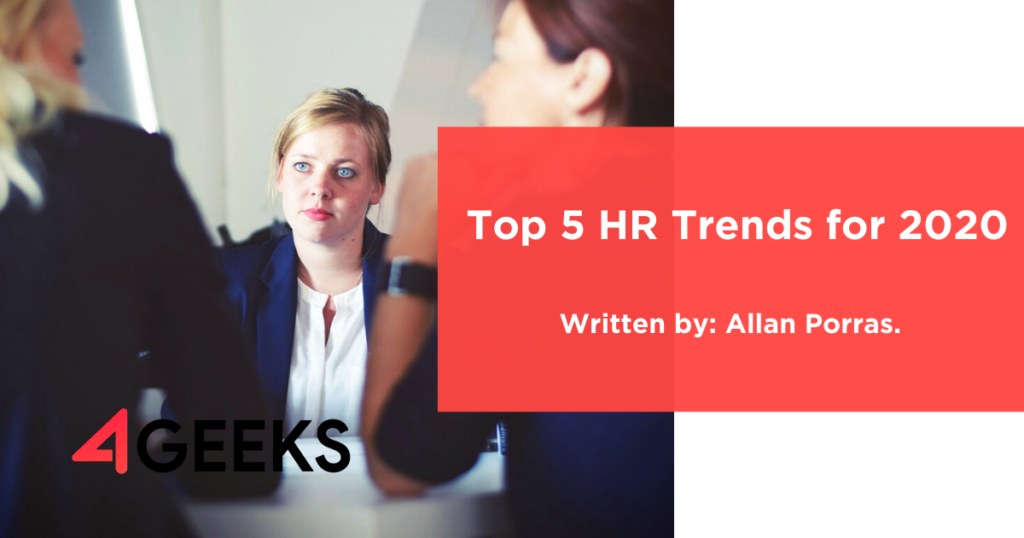 Top 5 Human Resource Trends for 2020
The American economy has reached the tipping point with more open jobs than there are workers to fill them. In September 2018, American jobs openings reached a 17-year high, Bloomberg reports. To avoid candidate churn and improve hiring and retention, businesses must be aware of these top five staffing challenges and trends in 2020.
Human Resources trends now are most oriented to emerging techs and how to improve process with help of technologies, recruiters are thinking to retain new talent in a digital era, usually companies are adopting new trends every year to improve their processes.
How are HR Trends & Challenges for 2020?
Prioritizing engagement
Technology has made it easier to keep in touch with candidates and keep them engaged. Email and social media channels like LinkedIn or enable always-on communication. Make easier communication is first step to improve a good engagement with our candidates. Use social media a not common website to post vacancies for example Github or remote.co can help to avoid competition to attract new talent.
Recruiting through non-traditional channels
I said before that new emerging companies are looking for new talent specially in technology, platforms as Glassdoor, Google Jobs or LinkedIn not are necessary the best options to look for talent.
Emerging platforms like Epicjobs, RemoteOK.io and 4Geeks Teams offers remote software teams on-demands for free.
Offer a New Work Environment
Today companies are thinking in new ways to retain talent and have a brand culture with our candidates community, geek community or millennial gen usually are looking for startups or mid-size companies with a new mindset and culture fit. Candidates are looking for new environment and benefits as WFH, flexible workdays, etc.
Being Digital
Another benefit of technology for hiring is that it helps streamline hiring processes. Candidates can find all the information they want about a job online, apply through a web portal and see real-time updates on their candidacy status.
Digital technology is also improving processes. Just like marketers, recruiters can use tools to track recruitment campaigns, align hiring strategies across multiple digital channels, and use A/B testing to see what components of job postings are most effective.
Human Resources professionals and recruiters must use digital analytics to improve their efforts and stay ahead of the competition.
Spy Competitors
A digital worlds depends of trends and this one can change in a second, usually companies are looking for new solutions to solve a common problems, HR can use this new trends and technologies to spy what competitors are doing and how to improve that to get an advantage of my competitor and attract talent.
---
About 4Geeks: 4Geeks is a global product development and growth marketing company, and all-in-between, focused on 10X ROI for startups, small and mid-size companies around the world. 4Geeks serves industries like E-Commerce & Retail, Startups, HealthTech, Marketing, Banking & FinTech and Real Estate. Headquartered in United States, and nearshore development centers in Mexico and Costa Rica. Pura Vida!
Plan to start an extended engineering team in Latin America? Start right here.