4Geeks Payments
Online payments API
4Geeks Payments is an online revenue platform that allow sellers to charge all major banking cards online. Easy integration via APIs, third-party client libraries and plugins.
5% + $0.5 USD per sale. No extra fees.
Create account
Read the docs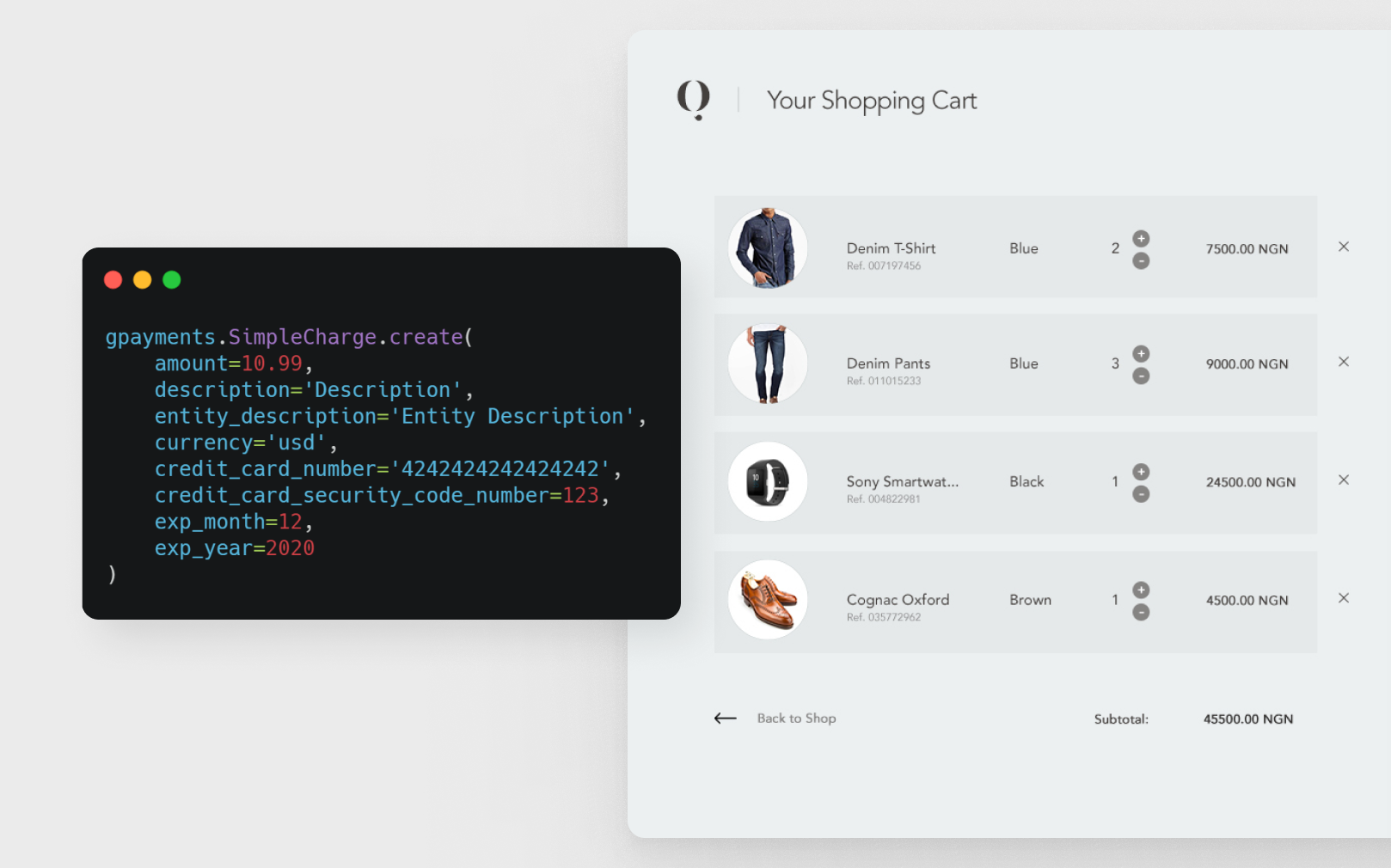 Integrate
quickly
An excellent opportunity to promote any business idea.

Luis Jimenez
eCommerce Founder
Accept online payments on your website or platform with speed and security using
We built 4Geeks Payments to make entrepreneur, startups and enterprises life easier collecting online payments from customers, with no banks.
You control everything, at everytime. Backed by a friendly administrator interface to get updates on the go.
Your customers can pay with major cards brands, including Visa, Mastercard and AmericanExpress.
Free payouts
Get deposits into your bank account automatically at every single day, week or month, for free. No matter what bank is. Run your business on autopilot and see your money come in. Learn more.
Your frontend, our backend
Get up and running today. We have a robust set of APIs, client libraries and comprehensive documentation so you can spend less time adding online payments into your platform or app, and more time building cool stuff.
Get instant access to APIs in sandbox mode and simulate a complete payment.
Say to endpoints what exactly your platform need to charge to your users, at scale.
Use our tools or build your own, to track and manage transactions, refunds and balance.
Avoid integration from scratch, with our ready-to-use plugins.
Use our plugins for WooCommerce, Magento or Odoo to accept online payments in 5 minutes (or less). Learn more.
Always know what you'll pay.
Let's keep things simple.
per successful transaction
Account creation
Professional account
No extra costs. No hidden fees.
Create account
Learn more
Multiple currencies
Display prices and process payments in more than 100 currencies.
Global support
Get paid from global customers with ease, in seconds.
Secure payment info collection
Use our libraries to collect payments on any platform or language.
Simple and affordable online onboarding process.
We support merchants from United Kingdom, Spain, Canada, United States, Mexico, Costa Rica, Panama, Colombia, Uruguay, Peru, Argentina and more. Check full supported countries list.
Loved by business and individuals across the globe.
Excellent service and with a tendency to improve, I hope they continue like this, they are becoming one of the best online payment options in Costa Rica!
An excellent opportunity to promote any business idea. Impeccable service.
4Geeks Payments guys are without a doubt exceptional. His disposition at the service of users is incredible and fast.
99%
Prefer 4Geeks to accept online payments over traditional banking solutions.
Featured customer stories
We partner with companies in different industries to design, build and grow their apps, platforms and SaaS products.