4Geeks Teams
Hire Top Premium In-House Software Developers, Coders, Programmers, Designers or Product Managers in Latin America, On-Demand.
Get Started
Trusted by








Meet tested candidates in 72 hours
How it works
Hire individuals or teams. $0 recruiting fee.
Talk to our talent experts

Our team expert evaluate your job description and will work with you to make sure it's as good as it can be, and we'll use it to match you with engineers.

Review candidates

Within 72 hours you will receive some vetted and tested candidates for you review. You can interview them online if you want.

Start delivering

Once you selected the right candidates to join your team, we sign a work agreement and that's it. They become part of your team and culture.
Let's start !
Scale your product design and development team.
Our hourly rates ranging from $40 – $150 USD. Read FAQs.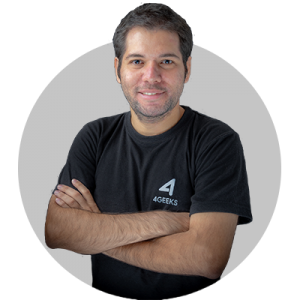 "Let us find your next extended in-house and vetted software engineering team in Latin America." Allan Porras, 4Geeks CEO.
FAQ
Have extra questions? Please use the form above.
What types of talent does 4Geeks Teams provide?
You can find software developers (front-end developers, backend developers and QA and product testers) and digital consultants experts in Salesforce, Oracle, Python, Ruby on Rails, React.js, React Native, Javascript, Java, PHP, Go and more. Browse here the complete technologies capabilities.
Where will my team be physically located?
Your team can be located in any of our delivery centers in Costa Rica, Mexico or at any trusted partner in Latin America.
Is my team strong in English skills?
Yes! By default any team from 4Geeks is fluent in English.
How long does putting a team together takes?
72 hours after signing NDA 🙂
Can I hire a part-time consultant?
Can I hire individual developers or only complete teams?
There is no a minimum team member to hire, so you can start with 1, 2 or 3 guys. You can hire exactly what you need. Our talent experts can find one individual developer or a complete development team for you.
Can I be part of hiring process?
All the hiring process is 100% transparent. We are doing a great job filtering the right talent for projects needs, but you can always take the final decision.
How does the contract and service payment work?
Simple. You will receive a weekly or monthly invoice that includes everything. You don't need to take care of any extra cost, process or legal documentation.
What are the payment options?
You can pay by credit/debit card or ACH.