Hire dedicated software engineers, designers or marketers in Latin America and start building better products.
Redeem 7-Days Trial
Key benefits to partner with 4Geeks
Fulfillment services
When you partner with 4Geeks you will receive this core services. We cover everything.
Redeem 7-Days Trial
FAQ
Where will be located physically my team?
Your team can be located in any of our delivery centers in Costa Rica or any trusted partner in Latin America.
Can I be part of hiring process?
Sure! All the hiring process is 100% transparent. We are doing a great job filtering the right talent for your needs, but you can always take the final decision.
My team is fluent in English?
Yes! By default any team from 4Geeks is fluent in English.
How is working the payment and contract terms?
Simple. You will receive only one monthly invoice that includes everything (office, workstation, computer with webcam, etc ). You don't need to take care about any extra thing, process or legal documentation.
Once you apply the 7-days trial period you will receive a complete business audit. After that, if you agree, the contract extends to 6 months.
There is no a minimum team members to hire, so you can start with 1, 2 or 3 guys.
How long time take to put together a team?
It depends. Normally it can take from 1 to 3 weeks.
Engineers & Consultants Availability
Start your own extended team with Web Development, Mobile Development, QA, or Digital Marketing skills.
Some web and mobile technologies we are familiar with: Python/Django, Ruby on Rails, PHP, WordPress, .NET, React. Android, iOS and React Native.
Please fill out the form below in order to get 7-days trial.
Start your own extended team now.
7-Days Trial.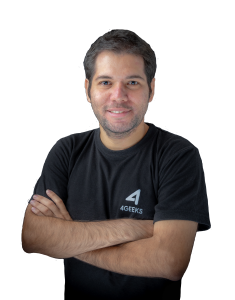 "Let me guide your company to the right path and make it big… starting now." Allan Porras, 4Geeks CEO.