Hire premium
IT remote talent

in your timezone.

You don't want to outsource operations. You want to extend your current team at half-price.

4Geeks Teams is a humman-assisted platform to hire fully-tested software engineers, project managers and digital marketers on-demand, in your timezone, within 3 days.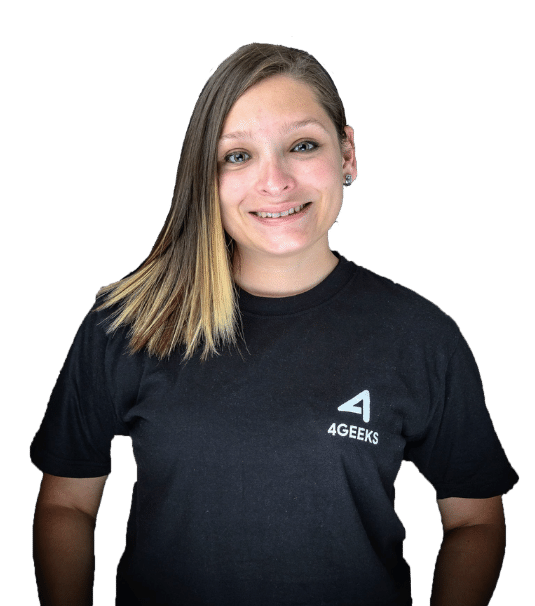 Always improving
The quickest and easiest way to setup a remote team
Understand your talent needs

Our matching team takes a deep dive into your technical needs, culture, and long-term goals.

Meet your perfect talent

We review candidates with you to find the perfect fit.

Accountability on both sides

Pay all your distributed remote team members in a single transaction, in minutes, for free.
Hire better talent
Wide variety of technical skills
From frontend, backend and AI developers to Data Engineers. From 1 to 10 years of experience. From top nearshore locations in Latin America.
Why 4Geeks Teams
Discover real business advantages that will impact your ROI
Nearshore locations like Mexico, Costa Rica and Colombia let your team collaborate with you in real-time.
Our engineers and digital consultants network are fluent in English wich improve an agile product development.
Save up to 35% in operating cost from the first month, by hiring software developers with 4Geeks Teams.
Ensure that your hires are treated fairly, according to their country-specific labor laws.
Your Culture. Your Rules.
Engineers will join your team, your culture, schedule and communication tools.
Be confident on working with only-premium talent, verified by 4Geeks experts.
Most wanted skills
Multidisciplinary teams experts on cutting-edge technology
4Geeks Teams vs others
This is the best resource to understand the real difference between 4Geeks Teams and Toptal, UpWork, X-Team, YouTeam, etc.
We really hate to compare talent with others, but many people get confused, and they believe that pricing is an advantage.
Where we're a little weak:
We're not ready to work with limited budget companies.
Our talent pool is not strong in financial or marketing skills.
We can't offer you a trial period at this time.
Where 4Geeks Teams is strong:
We put together a competitive software team in 3 days.
Handpicked fully-tested software engineers.
Access top talent from top universities across Latin America.
Our talent pool is located in Central Time (CT), Pacific Time (PT) and Eastern Time (ET).
Talent culture and proximity works better with Occidental-based companies.
Main Latin American countries (mostly Mexico, Costa Rica and Colombia) are 3-4 hours from main US cities
We don't charge any recruitment fee or extra cost.
We work better for long-term partnerships.
Testimonials
What they said about 4Geeks?
4Geeks is creative, experienced, genuinely care about the customer. As partners we work closesy to develop strategy, architecture, specifications, wireframes and ultimately a solution that meets our clients brand goals that connects with a great user experience.
We have been closely working with 4Geeks for months, developing in different languages for our ongoing operations in Central America. Support/Quality and delivery time are always met. We look forward to continue doing business with them in this and new projects to come.
4Geeks has been a trusted partner since 2015. We're happy to have them in the Gun.io community and we look forward to working with them for years to come.
Discover More
Frequently Asked Questions
Augment Your Engineering Team Over This Week.
Reach out more than 1500 fully-tested software engineers from top countries in Latin America, like Mexico, Costa Rica, Colombia and Argentina.