It's starting to feel like the biggest threat to Google Assistant establishing a presence around the home is simply being crowded out by a swarm of Alexa gadgets. Today, Ultimate Ears — maker of the very popular Boom line of Bluetooth speakers — announced a new series, the UE Blast, with far-field microphones for Amazon's Alexa built right in. Both the Blast and its larger, louder sibling the Megablast will begin shipping in late October for $229.99 and $299.99 respectively. Those prices are significantly higher than the mainstream Boom products, which will remain available for consumers who simply want a take-anywhere Bluetooth speaker.
From the outside, the Blast and Megablast each look basically identical to the Booms before them. But there are some key hardware differences; they're just not obvious. For one, both Blast speakers have Wi-Fi chips inside, and that's how they're able to get online and connect with Alexa. Also, each has multiple microphones running around the speaker underneath the fabric. And the Megablast is able to crank 40 percent louder than Megaboom, making it the most powerful speaker that Ultimate Ears has ever produced. In the US, both speakers will come in graphite (black), blizzard (white), merlot (red), or blue.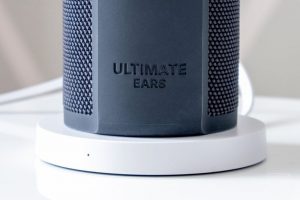 You can still connect to either of them via Bluetooth, and they both have the same water and drop resistance as the Boom devices. But Ultimate Ears thinks that Alexa will add an extra layer of convenience when you're listening around the house. The biggest convenience is that playing music over Wi-Fi (with Alexa) means that it won't get interrupted when someone calls you.
Unfortunately, Spotify support won't be available through Alexa at launch (just like Sonos), and it sounds like UE will need a few months to make that happen. I wouldn't bet on it happening before the holidays, but we'll see. You've always got the option of simply using Bluetooth for Spotify, though — and any other service that doesn't work with Alexa voice commands.
The services that will support Alexa out of the box are Amazon Music, iHeartRadio, and TuneIn. That's a pretty small list if you're not subscribing to Amazon's premium, on-demand music option. Pandora and Deezer will be added "in the future."
Alongside the two speakers, UE is also launching a charging station it's calling the Power Up. The white puck is large enough to support both Blast sizes and will cost $39.99. Having something to just drop your Blast onto for a constant charge makes a lot of sense since some people will want this to function as an always-on Alexa device. Portable battery life is claimed as "up to 12 hours" on a charge.
I'm pretty excited about these speakers. If nothing else, you could view them as more durable and portable versions of the Echo. They'll offer Alexa's usual assistance and most skills such as control over your smart home devices. (Alexa phone calls won't work here, nor are they available on the Sonos One.) UE already added Alexa to the Boom 2 speakers, but that was a post-release firmware update and can't match the convenience and integration of these new products. The Blast and Megablast are always listening for "Alexa," whereas you've got to manually activate the future on the Boom.
But those prices, though. These are some expensive speakers. They cost more than the Sonos One, and I'd hesitate to predict even the Megablast sounding better than a Sonos. For $150, the Blast would be a must-have holiday gift and maybe the ideal portable speaker. Going over $200 takes something away from that appeal.
From TheVerge.com