Paint Doctor: Paint House Estimating System
It was a software made for estimate a house painting job. Built in Python (backend) and AngularJS (frontend).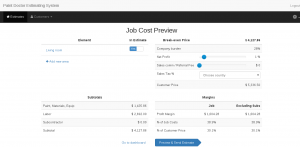 [adrotate group="2″]
About 4Geeks:
4Geeks is a global product design, development & market company, and all-in-between, focused on triple ROI for startups, small & medium businesses. Headquartered in United States, with development offices in Mexico and Costa Rica. Need help to grow your business? Request a 15 min free consultation, discover an out-of-the-box solution or simply subscribe to keep in touch.
Looking for software engineers for your team? Hire top in-house software developers in Latin America, on-demand, and start scaling your product development now.