SmarterSelect: Online Applications System
SmarterSelect is a web platform to create and manage forms. As they say: "Online Applications. Made Easy". Over 1 million active users (and counting) are creating and managing online applications, grants, scholarships on SmarterSelect every week in the United States.
This product enable partners like Texas Tech University, San Angelo Area Foundation and Vermeer to manage online applications.
Challenge:
The SmarterSelect team was looking for a strong experienced dedicated team as their main IT team, to fix current bugs, improve the product and take the product to the next level.
[adrotate group="2″]
Solution:
SmarterSelect partnered with 4Geeks as their main engineering team.  So, 4Geeks built a engineers dedicated team, getting together Ruby on Rails engineers and Quality Assurance experts, to solve past issues and improve the product constantly. Reduce production bugs was something urgent.
Stack:
Backend: Ruby on Rails, Javascript, Rackspace, PostgreSQL.
Frontend: HTML, Javascript, ExtJS, DataTables, ReactJS.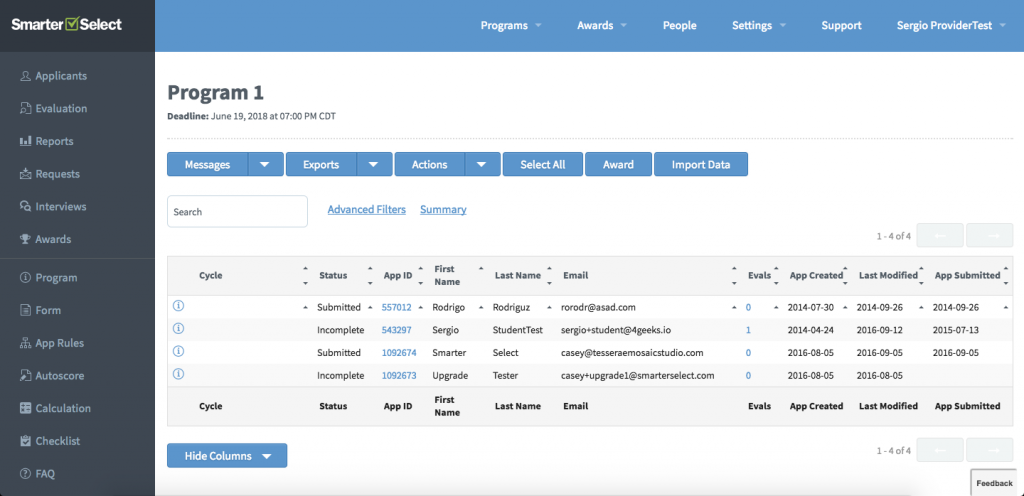 About 4Geeks:
4Geeks is a global product design, development & market company, and all-in-between, focused on triple ROI for startups, small & medium businesses. Headquartered in United States, with development offices in Mexico and Costa Rica. Need help to grow your business? Request a 15 min free consultation, discover an out-of-the-box solution or simply subscribe to keep in touch.
Looking for software engineers for your team? Hire top in-house software developers in Latin America, on-demand, and start scaling your product development now.